The CSSM is happy to welcome Faidon Papadakis and Maya Hey to their new positions! They are the first doctoral and postdoctoral researchers who the CSSM has hired. Now settled in Helsinki for about two months, Faidon is getting used to the cold winter temperatures and Maya is enjoying weekly sauna visits. Both have jumped straight into CSSM activities such as the reading group and cross-pollination seminars, and CSSM-related events like the Nordic Network for the Social Study of Microbes workshop in Copenhagen in January.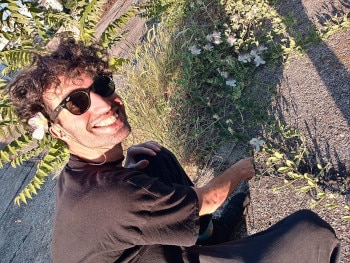 Faidon Papadakis started his journey with us as a PhD candidate in the Doctoral Programme in Social Sciences at the University of Helsinki. His research focuses on composting as a practice within urban gardening. Faidon investigates the ways that composting, as a practice embedded in intentional, everyday multispecies engagements, involves skills for noticing, caring, and controlling; comprising ways of knowing and thinking microbes and other nonhumans in urban landscapes. Faidon will be conducting ethnographic fieldwork with urban gardeners in Athens and Helsinki. You can learn more about Faidon from his People page.
Maya is an expert on human–microbe relations in food settings, holding degrees in dietetics, food studies, and communications. Her research focuses on fermentation and the material practices of how we come to know microbial life. In her current position, she examines the intersection of ferments and microbiome research, particularly as it reveals assumptions about what microbes are, how we work with them, and how they get slotted into a technosolutionist imaginary. She continues to bring a humanities and social science perspective to the life sciences, calling upon intersectional, non-Western, and multispecies approaches to map out human response-ability in a more-than-human world. You can read more about Maya on her People page.